BACKYARD GETAWAYS & OUTDOOR LIVING

Photo source: www.unilock.com
Backyards have never truly been simple nor ordinary. For the young and the young at heart, backyards are vast kingdoms of afar that require exploration with daring sword fights, narrow escapes, and newly found treasures. It is where the family chef hosts their personal cooking show while exhibiting perfect grilling techniques to wow onlookers. And to others, the backyard is their private getaway where the hustle of life cannot find them.
Backyards have always been hubs for relaxation and gathering, and their popularity is ever growing. The newest backyard trend allows creativity to run wild, beyond unexplored realms and personal fame; people are imagining the extension of indoor living qualities into backyards everywhere, blurring the line between coming in and going out.
The first step in designing outdoor living is deciding how your space is going to be used. Depending on the size of the area, you may choose to divide it into sections with designated purposes, or you may opt for a sprawling garden accented by a dining patio and indoor/outdoor kitchen. It is very important to focus initially on functionality in order to maximize your use of the space. Professional advice and installation is recommended, especially on large-scale projects. Keeping that in mind, these are some leading suggestions for divisions:
Meditation Room
An outdoor meditation room is great for those who enjoy the specific peace and quiet only found when surrounded by nature. Hedges are the recommended material to provide seclusion from the rest of the yard; however fences or latticework can be used. Furnishing the meditation room can be as simple as a bench or chair to relax in with your favorite book, or it could involve water, specific plants and blossoms, and anything else that may aid your tranquility.
Play Areas
An assigned play area is fantastic for spacious outdoor living. By designating exactly where Ultimate Frisbee or the baseball game is taking place, fencing or other appropriate measures can be taken to ensure that loose balls do not end up in the street, the pool, or in the middle of dinner.
Social Space
Social space is typically one or more areas used to entertain, no matter the size of the group. It can refer to the patio with all the furniture, the dining area right off the kitchen, or other sitting areas throughout the yard, perhaps off the play area, where parents can sit and watch the games unfold. Your outdoor living space may have numerous social spaces, or it may have one large area where visiting, eating, and observing can all happen from a singular vantage point.
Outdoor living spaces typically utilize various combinations of the suggested designated areas, however, almost everyone also employs an outdoor kitchen. This specific trend has any number of definitions, layouts and designs - you can truly have as little or as much as you like.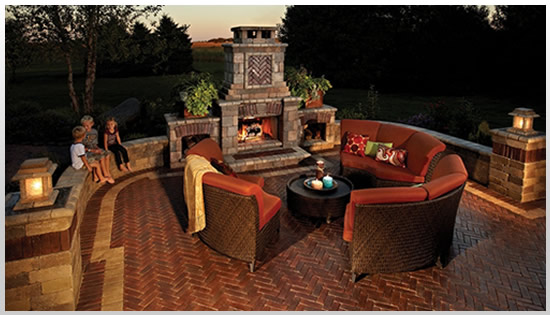 Photo source: www.unilock.com
OUTDOOR KITCHENS
With an outdoor kitchen, like any designated area, you must first decide where it will be best located. Outdoor kitchens can be elaborate extensions of indoor kitchens, they can be slightly more involved than a grill and patio furniture, or they can be a self sufficient oasis located far back in the garden - it is entirely up to you and your yard. No matter the location, every outdoor kitchen should strive for seamless functionality. This usually begins with progressing workstations, making it easy to transition from preparation to cooking to clean up. There also needs to be ample counter space between work areas. Outdoor kitchens can be laid out in many shapes and designs to fit your designated space, just like any indoor kitchen.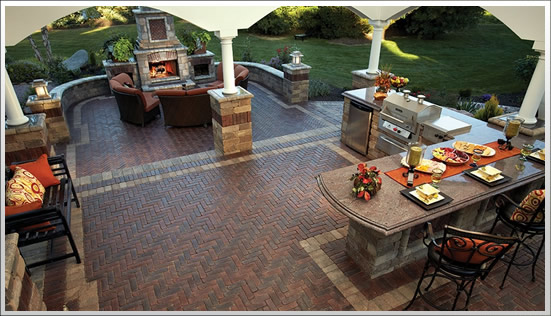 Photo source: www.unilock.com
The same indoor appliances are available for outside kitchens. The options are almost limitless from refrigerated drawers to small dishwashers or wine coolers, but there are a few handy fixtures to consider:
Kitchen Sink
Will you be using the sink to rinse vegetables occasionally, requiring only a single bowl, or will you need a double bowl to chill drinks on one side while preparing dinner on the other? Garbage disposals, sprayers, and sliding chopping boards are all possible accessories for your outdoor sink. Typically any fixture for an outdoor kitchen will come in stainless steel as it is rust-resistant and does not expand with exposure to the elements. Some options may come in granite, though covering or sealing may then be necessary.
Refrigerator
There are very few rules for an outdoor refrigerator. Under-the-counter models are often adequately sized, though refrigerated drawers are quite useful as well. All styles come solely in stainless steel to withstand outside elements. The enhancements for the refrigerator really come into play on the inside, including such features as wine racks and specific temperature zones.
Countertops
It is necessary for outdoor kitchen counters to be durable, non-staining, and easy to clean. Granite slab or poured concrete are the best options for withstanding weathering. Covering, sealing, or annual professional attention should be all that is necessary for maintenance.
The Grill
Grills come in all shapes, sizes, and specialties. Every outdoor chef has their favorite, so the grill you use in your kitchen is entirely dependent upon personal preference; freestanding models are options, though many outdoor kitchens have the grill of choice built in. Some kitchens utilize a grill cooktop rather than full sized hardware, and others utilize both alongside a wood-burning oven. Be sure to include the cooking elements you will use most often.
When including these amenities or any others, keep in mind your space and the flow of movement. The more cooking zones there are, then the more countertop space needed, as well as the walking room for movement in between. It is best to design your kitchen for maximum use, but avoid overcrowding your kitchen for both safety and functionality.
When the areas of your choice have been designated and laid out, the next steps really allow creativity to flow - after functionality comes aesthetics! While it is commonplace to extend the decor characteristics of your home into the outdoor living space, it is not a rule that you must do so. Some designs call for a smooth transition from indoor to out with use of similar stone flooring and correlating fabrics, patterns, and colors for furniture and fixtures. Others prefer stepping out of the house and into a yard that transports them far away, whether to a seaside retreat or a jungle hide-away. Whatever the schematic, there are some special touches that highlight any outdoor decor while being exceedingly useful:
Fireplaces/Firepits
Outdoor fireplaces and firepits can be used for cooking, but are most often used decoratively for that cozy campfire atmosphere. Wood burning and gas options are available in numerous styles to best fit your space. It is necessary to check local restrictions on the use of wood burning and/or decorative firepits before installation.
Lighting
Outdoor lighting can vary from motion or light sensitive lights or those set on timers to come on at a specific moment. Spotlights can be used to accent special plants or pieces of interest within a yard, while candlelight or tiki torches can create ambiance for socializing or dining. Bright light outside at night can be unsafe, causing too much contrast when moving between lit and unlit areas and compromising vision, so start with a few lights and add more as necessary. Any area that may include people moving rapidly, for example a play area, should be lit adequately when used at dark times to prevent injury.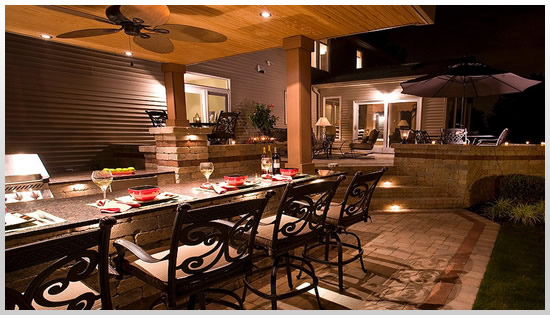 Photo source: www.unilock.com
Fans
Especially in hot or humid climates, outdoor fans are wonderful to keep air moving and allow enjoyment of your living space. Ceiling fans can be installed above covered patios or outdoor rooms, otherwise standing fans are adequate. Many styles and models are available in order to add comfort while blending with the surroundings.
Patio Furniture
Outdoor fireplaces and firepits can be used for cooking, but are most often used decoratively for that cozy campfire atmosphere. Wood burning and gas options are available in numerous styles to best fit your space. It is necessary to check local restrictions on the use of wood burning and/or decorative firepits before installation.
Mosquito Netting/Screens
To keep unwanted insects away, netting or screening of certain areas can be both functional and whimsical.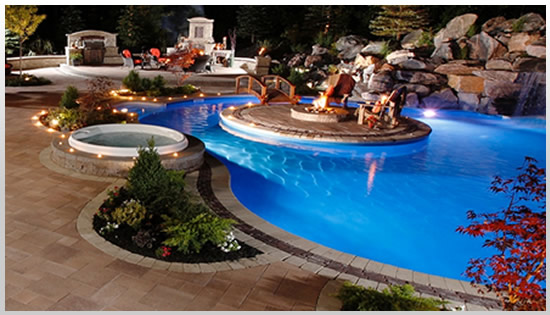 Photo source: www.unilock.com
Swimming Pools
Swimming pools are not particularly small accents to outdoor living, but are definitely a fun option when planned correctly. Pools that are classically shaped (rectangular), infinity (best with view properties), and naturalistic (can include beaches and grottos) all fit wonderfully into most any backyard plan. If choosing to install a pool it will be necessary to check local codes and regulations, plan for maintenance and upkeep, and consider appropriate lighting and fencing with a lockable entrance. All of these measures ensure pool safety and proper use, adding to the richness of your outdoor living areas.
Source:
HousePlansAndMore.com
Article: Backyard Getaways with Outdoor Living
www.houseplansandmore.com