LANDSCAPE DESIGN SERVICES FOR OTTAWA EAST, WEST, NORTH AND SOUTH
Explore your options on paper before they're set in stone. Heritage Landscape Design offers full colour 2D and 3D plans to help you visualize your project and plan your budget.
Square one…
The secrets to a successful landscaping project are to:
• Anticipate potential challenges before breaking ground;
• Have a comprehensive and complementary vision for the home's surroundings
• Ensure clarity of communication between the landscape professional and
the client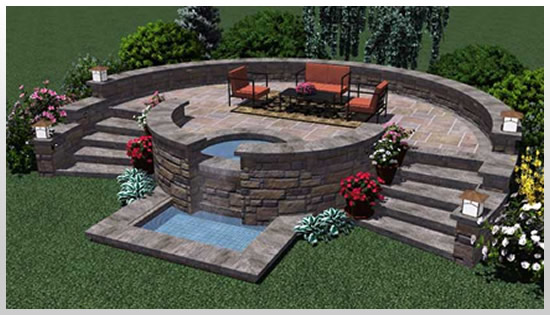 "Put another way, the secret to a great landscape is a great plan!" We strongly recommend to all of our clients that they consult our landscape design specialist and purchase a plan before beginning a landscape project. Our design specialist's job is to ensure coherence in your overall landscape by tying the different landscape elements together to a common theme.
At Heritage Landscape Design, we believe that your landscape should not simply be something to look at or a place to sit when you don't want to be indoors. Your landscape should be an experience designed to make you feel something and should be a reflection of your personality. That's why with Heritage, you don't get assembly line landscapes. You get landscape designs tailored to your needs and wants. The perfect fit!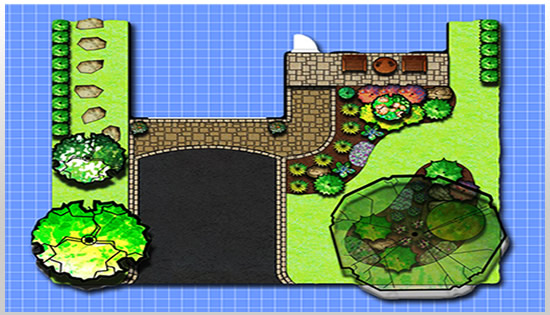 To ensure this fit, we have prepared a downloadable design questionnaire which will help us get a general idea of what you are looking for in a landscape design. The questionnaire/design form is available to download on the side of this page.
Should you decide to purchase a schematic, you will receive a computer generated colour drawing to scale, complete with an estimate of the total project cost, a list of materials used, plant names and pictures, elevation and drainage details as well as plant care recommendations.

*Drawing prices vary with size of property, level of detail and quantity of landscape elements.
OUR INITIAL DESIGN CONSULTATIONS ADDRESS THE FOLLOWING AREAS:
• What are the site conditions?
• Are there neighbourhood covenants?
• Who will be using the yard and how?
• How much time can you devote to maintenance?
• What hardscape areas are desired?
• What type of line would you like to see predominantly in your landscape?
• Would you be interested in strong focal points such as sculptures/ponds?
• What are the water/sun requirements?
• Do you plan on installing an automatic irrigation system?
• Do you prefer a more subtle landscape or would you like to turn heads?